How to Furnish Your Trade Show Booth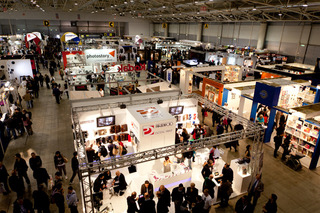 If you're getting ready for your first trade show, or you're an experienced exhibitor rethinking your display, you're probably thinking about how to make sure your exhibition booth stands out in the crowd. Goodkey Show Services can help you choose the right design, fixtures and signage to create eye-catching displays. We're known in Vancouver, Alberta, Edmonton and the rest of Western Canada for our excellence in handling all aspects of this type of event for our clients.
Designing a trade show booth: the basics
The fixtures you choose will depend on the size of your booth and what kind of trade show you're participating in. A booth at an industry trade show where you're meeting future clients will have different needs than a consumer trade show where you'll be selling your product right there. In both cases, however, you need a striking display that'll set you apart from your competition and draw in clients.
The most important part of any booth is the back wall. In most cases, this is the biggest space you have for marketing so it shouldn't be overlooked. There are many different types of back-wall displays, ranging from simple vinyl banners to tension fabric backdrops to custom booths combining any number of design aspects.
No matter the type of trade show booth you use, it's important that its decorations and signage match your marketing material. This may sound obvious to you, but it's sometimes overlooked. Make sure your company's colour scheme, font choices and branding are maintained throughout your whole booth.
Furnish your booth
Once you've chosen the type of backdrop you want, you can start to furnish your booth. Here are a few items you may need:
A sitting area with chairs and a coffee table so your clients can relax while you chat with them
High-quality product displays showcasing your products to entice people to buy from you at a consumer trade show
Literature racks for brochures and a business card holder to keep your booth organized and tidy
A box, bowl or other receptacle for business cards you collect
A screen for any audio-visual needs. A laptop or tablet won't be professional or impressive enough in this situation
Don't worry if you don't have any of these things or don't want to transport them to and from shows. We provide trade show furniture rental for displays at shows in Alberta and Vancouver.
To make sure trade show visitors remember you, team up with the professionals at Goodkey Show Services to make your displays and signage stand out. Call us today for help with your exhibition booth design and furniture rental in Vancouver, Alberta, Edmonton and the rest of Western Canada.
<< Back to Blog List